What I liked: Russ Wood from USF Team Camp Saturday
TAMPA, Fla. – The South Florida Bulls Men's Basketball Team Camp is now two-thirds completed. While some teams played their fourth or fifth games of the camp, and fatigued began to affect performances, several players caught my attention as I went from court to court. What I really liked was…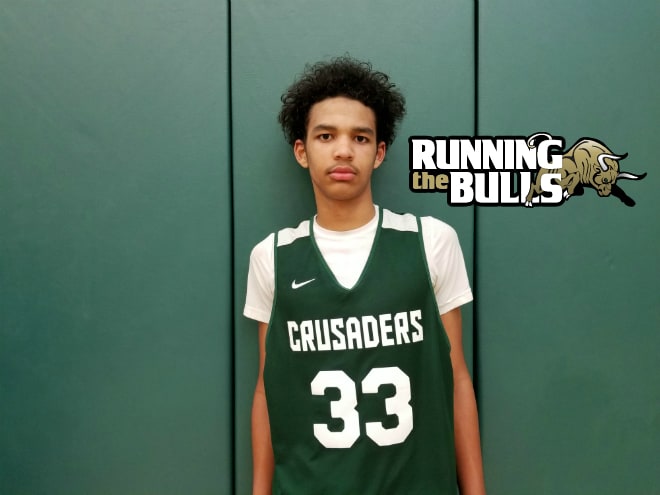 …Everything about Johni Broome's game
I first saw Broome, a 6-foot-7 forward who listed his weight at 192-pounds, last season playing for Plant City as a reserve. Saturday Broome was the best player on the court in Tampa Catholic's win over Auburndale. Slender, agile and with an advanced feel for the game, the class of 2020 forward did a little bit of everything for his team and finished with a double-double of 11 points and 10 rebounds. Broome was active at both ends of the floor, made good decisions with the ball in his hands and played with good effort on every possession. Expect the Bulls coaching staff to keep close tabs on Broome. In fact, he says that USF assistant coach Scott Wagers contacted him.
Offers: None
Interest: USF
…Tre Carroll holding his own with the older players
Sometimes when you sit down to watch a player, one of his teammates pleasantly surprises you with his play. Enter Tre Carroll. The rising sophomore (class of 2021) stood out in a game in the Sun Dome on Friday. A 6-foot-7 forward, Carroll was intriguing enough to make me watch him again on Saturday. He did not disappoint. Carroll is a skilled, efficient player with a high basketball IQ. I don't recall him taking a bad shot, he reads defenses well, moves without the ball and is not afraid of contact despite his listed 190-pound wiry frame. Carroll was a varsity starter for Charlotte High School (Punta Gorda, Fla.) as a freshman and was a productive scorer in the lane. He needs to add strength and improve his face-up game but, keep in mind, we're talking about a player who hasn't played the first game of his sophomore season. We have plenty of time to see him develop his game. I think Carroll has a chance to be a special player.

Offers: None
Interest: None
…Max Jones' mental toughness
Jones isn't explosive or exceptionally quick, but he makes plays and figured out how to score against the longer and more athletic defenders he faced when I watched Clearwater High School take on Boyd Anderson (Lauderdale Lakes, Fla.). A shooter with range, Jones made shots off the bounce as well as the catch. The 6-foot-2, 180-pound class of 2020 guard also showed that he can he create his own shot when the offense breaks down and the game is on the line. With 31 seconds left in regulation Jones hit a jump shot from about three feet beyond the college three-point line to tie the game and force overtime. He followed that up by knocking down a pull-up jump shot from just inside the top of the key with two seconds left in OT for the win.
Offers: None
Interest: None
…Jaylen Williams' upside
I watched Williams twice on Saturday and each time he attempted a jump shot the ball looked like it was going in. Unfortunately, he did not connect at a high rate in either game. His mechanics look very good so I a chalking the shooting performance up to a bad day. His ball handling, decision making and defense were all good for a rising junior. Williams also has the intangibles college coaches look for. He leaves it all on the court. He's a tough kid. He's a team player. Even when his team was facing adversity his body language was good. Those attributes, when combined with continued skill development, are the recipe for a good college player.
Offers: None
Interest: USF, Kansas State, Stetson and Presbyterian