USF-FSU rivalry is good for both schools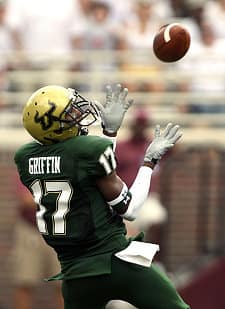 Pot, meet kettle.
Warchant.com publisher Gene Williams doesn't think
Florida State
gains anything of significance by scheduling a home-and-home series with
USF
.
While Williams is entitled to his opinion - (and he gives it freely - calling USF a 'substandard program ... unworthy of a return trip to Tampa)... it wasn't that long ago that Florida State got the same treatment from
Florida
- while the 'Noles were building their program.
In fact, Florida refused to play Florida State for several years after the former all-girls school started football in 1947 - and then only played in Gainesville for the first six years.
South Florida's fault - if any - is that the Bulls went to Tallahassee and knocked off the Seminoles - 17-7 in 2009 - an upset that started the rapid decline and fall of legendary coach Bobby Bowden.
The 'Noles were fresh off a big road win at
BYU
and had appeared to have righted the ship after a staggering loss to
Miami
and a near loss the next week to Div. I-AA Jacksonville State.
Since then, both programs have gone in opposite directions. South Florida's win all but set the table to force Bowden out at FSU and Leavitt's fall from grace resulted in his departure at the end of 2009. Enter
Jimbo Fisher
at FSU and
Skip Holtz
at USF.
Three years later, in the rematch that Williams speaks of - USF was stumbling through the beginning of a six-game losing streak, (which eventually led to Holtz' departure and the hiring of
Willie Taggart
) while FSU was coming off an impressive win over
Clemson
- 49-34 - and off to a 4-0 start.
The game drew a record crowd for USF - with announced attendance over 69,000 - but left many FSU fans bewildered at the swaths of empty seats in certain sections (mostly in the lower bowl) - leading many to cry 'foul' on the Bulls athletic department.
It's a common practice for schools to hold the best seats for its home fans. Ever seen an FSU game in
Miami
- like say - last year? There were swaths of empty seats in Dolphins Stadium - which were 'reserved' for Miami fans. That is what you call a 'home field advantage'.
He blasts the USF SID department for departing the game just after the media arrived back in the press box - leaving the media to fend for themselves.
Williams points out the fact that evidently there was a miscommunication as to where Fisher was supposed to do his post-game press conference.
All of the above comments could be some constructive criticism. But Williams, a long-time publisher at Rivals.com - ruffled several feathers of the USF flock .
Williams accuses USF of 'dirty poker' if you will, claiming that the Bulls took cheap shots at FSU players. Unfortunately, emotions tend to run high in a rivalry game - but it's pretty ignominious for an FSU 'fan' to claim a 'cheap shot' at USF - being that
Darnell Dockett
- oh he of twisting knees fame - played at Florida State and reportedly took 'cheap shots' in a rivalry game with
Florida
.
I do seem to remember a famous coach of another school in Florida (Steve Spurrier) whining that FSU played 'dirty' - and then-Seminole AD Dave Hart said it best.
"It'd probably be good if somebody just spanked him and put him to bed and hope that he wakes up all grown up," - said Hart about Spurrier's complaints.
Perhaps the animosity some Seminole fans feel about the renewing of what could be a hugely successful series is the proclamation by many USF fans and alumni that there were now four major college programs in Florida - once the Bulls had their victory over the 'Noles in 2009. It took FSU seven tries to knock off Florida for the first time and I feel reasonably certain that FSU proclaimed itself as 'having arrived' after that fact.
One interesting parallel here in history could be drawn from a 1965 meeting between an up-and-coming FSU program and a SEC power -
Georgia
. The series had blossomed into a great rivalry, but FSU's final time playing the 'Dogs in the regular season left second-year coach Vince Dooley so mad he swore he'd never play the 'Noles again.
It could be because FSU had won the last four match-ups - including a 17-14 in Athens and 10-3 in Tallahassee. Many say it was the fact that FSU's victory over Georgia in 1965 came after the 'Seven Magnificents' took out the No. 5 ranked (and unbeaten) Georgia Bulldogs - and RB Bobby Taylor with a broken leg. Dooley all but accused FSU of playing 'dirty' and vowed the 'Dogs would not play again.
Thus ended a great rivalry - 5-4 in the advantage of Georgia. Also, the Seminoles had gained an enemy in the Southeastern Conference.
What could have been a great rivalry ended right then and there. The two schools have met twice since - both in bowl games.
I say that - to say this. Florida State and South Florida should play - and play annually. It's good for both schools' alumni - fan base and traditions.
Someone once gave Florida State a chance to sit at the big boy table.
Time for FSU fans who are upset about this renewal to do just that.