What To Watch For: USF vs. Rhode Island
USF opens its first road trip of the season Saturday at Mohegan Sun Arena in Uncasville, Conn., also known as Bubbleville, at the Basketball Hall of Fame Air Force Reserve Tip-Off Tournament against Rhode Island (URI).
In their season opener the Bulls turned up the defensive heat in the second half and scored efficiently in a 94-84 win over Florida College on Wednesday.
The Rams, who opened their season in Bubbleville, lost to No. 18 Arizona State and Boston College on Wednesday and Thursday.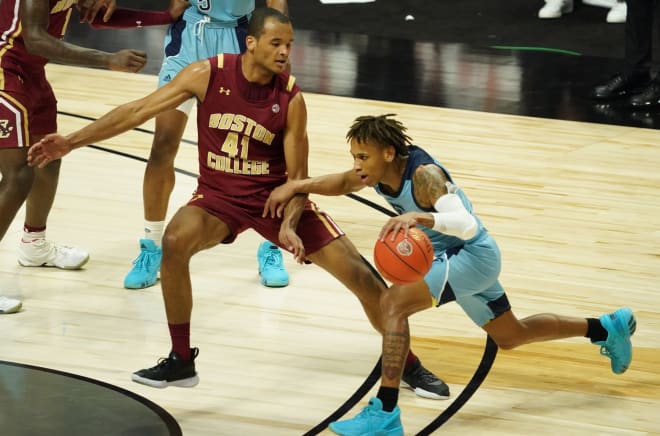 BullsInsider.com has your quick facts and what to watch for against Rhode Island:
Quick Facts
Matchup: USF (1-0) vs. Rhode Island (0-2)
Date: Saturday, Nov. 28
Time: 5:30 p.m. ET
Location: Uncasville CT | Mohegan Sun Arena
Watch: ESPN3 (Kevin Brown, Jon Crispin)
Radio: Bulls Unlimited (Jim Lighthall, Joey Johnston)
History: This is the fourth meeting between USF and URI. The Bulls trail in the series 1-2. The most recent meeting was on a neutral court in Nov. 2007.
The Opponent: Rhode Island was picked to finish sixth in the Atlantic 10 Preseason Poll in voting among the league's head coaches and media members. They lost three starters from last and have eight newcomers, four of them transfers, on their roster.
Rhode Island has one of its longest teams in program history this season. Jermaine Harris, Makhi and Makhel Mitchell give URI three players 6-foot-8 or taller. Redshirt juniors Antwan Walker and D.J. Johnson along with freshman Ileri Ayo-Faleye all stand 6-foot-7.
The player who makes URI go is senior point guard Fatts Russell. A terrific two-way player, Russell leads the Rams in scoring with 17.5 points per contest and has five steals in two games. Last season Russell ranked second in the country with 2.87 steals per game. He earned A-10 All-Conference First Team and All-Defensive Team honors following last season. Russell was named to the A-10 Preseason All-Conference First Team and earned a spot on the Naismith Trophy Player of the Year watch list.
The 5-foot-10, 165-pounder is fearless. USF must be aware of him at all times. URI will use drag screens to free up Russell for open jumpers in transition. The Bulls must make the right rotation in ball screen defense to limit Russell's paint touches.
I really like the Mitchell Twins. Makhi and Makhel are long armed shot blockers. The twins are mobile bigs who run the floor well and can hard hedge ball screens yet still get back to defend the post. They are also foul prone.
ECU transfer Jeremy Sheppard is a capable shot maker and facilitator and must be located in transition because he will shoot threes early in the shot clock. He likes the corner three in scramble situations.

USF must keep Walker off of the offensive glass. Walker and Johnson provide additional scoring for URI. Johnson has the ability to stretch the floor creating offensive rebounding opportunities for Walker and either of the Mitchell twins.
Defensively URI is mostly man so far this season. They have used a 2-3 matchup zone defense on fewer than 10-possessions mostly during baseline out of bounds situations or out of timeouts to give a different defensive look.
Prediction
USF 70 Rhode Island 68
To win, the Bulls must contain and try to make Russell take tough shots, play very good transition defense to limit the Rams transition points win the rebounding category and score efficiently like they did against Florida College. This will be Rhode Island's third game in four days. The Rams like to run – 80 possessions against Arizona State and 74 possessions against Boston College – so fatigue could be a factor late in the game.