Running the Schedule: UMass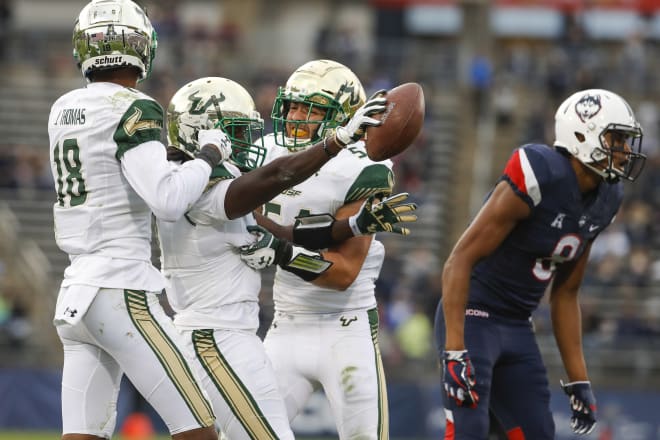 October 6th, 2018 marks the first football meeting between the University of South Florida Bulls and the UMasss Minutemen. UMass is one of the newest programs to enter the FBS level, despite entering their 139th season of football. This game will be played at Warren McGuirk Alumni Stadium in front of 17,000 partially filled seats and demonstrates the challenges that a program like USF has with scheduling. UMass is not an established brand at the FBS level, yet the Bulls scheduled a home and away series with them to fill a spot on the schedule. Scheduling challenges affect all FBS schools since conference realignment decreased the number of automatic qualifying conferences for the best bowl games from five to six, but none were hurt as badly as the Big East leftovers, who went from scheduling nine or more "power" teams to just one or two non-conference matchups against opponents who can't lose or those with nothing to lose.
Last season would have been the first matchup between these programs, but the game was cancelled due to Hurricane Irma. It was just as well for the Minutemen, who won just four games all season and had lost six straight going into their matchup with the Bulls. UMass finished the season strong, however, winning four of their last six games, beating Georgia Southern, Appalachian State, Maine, and BYU by an average margin of 36-22. Their only two losses in the second half of the season were to #16 Mississippi State and an 8-5 FIU team who went bowling against The American's own Temple Owls.
One thing the Minutemen have going for them that USF doesn't is that they know who is calling snaps in game one. Senior quarterback, Andrew Ford, recently named to the Davey O'Brien Award Watch List, passed for more than 2,900 yards last season. He also managed 22 passing touchdowns with just four interceptions all season. Ford will lead an offense that returns eight starters, including senior running back, Marquis Young, who rushed for an average of 950 yards over the past three seasons, scoring nine touchdowns in 2017. UMass had the 17th ranked passing offense in 2017, averaging nearly 300 yards per game.
This is another game where the Bulls should be a heavy favorite, despite uncertainty at quarterback. They will need to take the Minutemen seriously, however, because they will be capable of the upset. Last season, they held Tennessee to a four point margin, 17-13, and trailed by just four points to #16 Mississippi State midway through the fourth quarter. The Bulldogs returned a punt for a touchdown with one of the final possessions of the game to pull away to an 11-point, 34-23 victory.
At present, this game is not listed for television. That is subject to change, however, depending on whether or not USF can break into the rankings four games into the season. Kickoff is set for 3:30 PM, ET.