Running the Schedule: Tulsa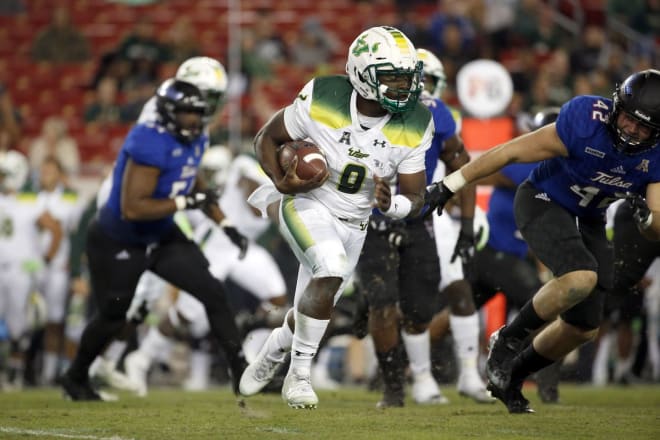 Game six of the 2017 season finds the University of South Florida Bulls in Tulsa, Oklahoma, to visit the Tulsa Golden Hurricane on October, 12th, 2018. The Bulls hold a 2-0 record in this series, which only began when Tulsa accepted an invitation to join the American Athletic Conference in 2014. Both games were relatively close, with USF winning 38-30 in 2014 and 27-20, last season.
The Golden Hurricane did not have a good 2017, winning just two games all season. They beat up on Louisiana, 66-42, in the second game of the season. Midway through the season, they met up with Houston, embarrassing the Cougars, 45-17.
As bad as things looked for Tulsa last season, they lost by a touchdown or less in five games. While that might be inspiration for hope for the Golden Hurricane, they were picked to finish last in the West Division for a second straight year in the AAC Media Days poll.
Tulsa scored an average of 29 points per game, last season, ranking them 54th overall. Their real weakness was on defense, where they allowed an average of 37 points per game, 121st in the nation in that statistic.
Last season, the Golden Hurricane offense was led by a tandem at quarterback, featuring junior quarterback, Chad President and redshirt freshman, Luke Skipper. While the two did compete for the starting job, the tandem usage had more to do with the injuries each sustained throughout the season. President ended up with the number one spot, but ended the season with a torn ACL in Temple game.
The running game was a high point for the Golden Hurricane in 2017, led by then-senior running back, D'Angelo Brewer, who tallied more than 1,500 rushing yards and nine touchdowns. Sophomore, Shamari Brooks, was second on the team in rushing, logging nearly 700 rushing yards and finding the end zone ten times. Brooks will look to fill Brewer's role in the Tulsa offense.
The Golden Hurricane will probably improve over their 2-10 record, last season, but this game should not be a stumbling block for the Bulls, who will seek double-digit wins for the third consecutive season in 2018.
This matchup is one of just two Friday night games for USF this season. Kickoff is set at 7:00 PM ET, with ESPN broadcasting the game nationally.