Running the Schedule: Georgia Tech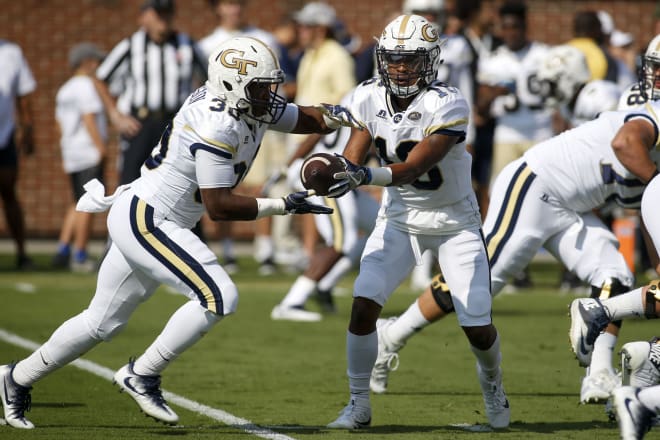 The Georgia Tech Yellow Jackets will bring their option offense down I-75 to Tampa to visit the University of South Florida Bulls at Raymond James Stadium for a steamy noon kickoff on September 8th, 2018. The Yellow Jackets are relatively high profile competition for a USF home game, a schedule that has included just five playoff conference teams since 2013. This game marks the first ever meeting between the two programs.
Georgia Tech had a marginal season in 2017, winning just five games with six losses. The one opponent shared with USF was UCF, but that game was canceled due to a hurricane. While the lost all games against ranked opponents, they took then #25 to two overtimes in the season opener, lost to #11 Miami by one point, and held #17 Virginia Tech to a six point margin of victory. So, while they were not world-beaters, they were certainly better than their losing record would indicate.
The Yellow Jackets will return 15 starters from last year, which was just the second losing season in head coach Paul Johnson's 21 year tenure with the program. Among those returning starters is senior quarterback, TaQuon Marshall. Marshall passed for 927 yards and ten touchdowns in 2017, while carrying the ball for another 1,146 yards and 17 touchdowns. KirVonte Benson, playing the B-back role, rushed for more yards (1,053) and more touchdowns (6) than all of the A-backs combined, despite the option designs. Nathan Cottrell led the A-back coalition with just 271 yards all season. The good thing for the Yellow Jackets, though, is that entire core offense is returning intact.
Both teams ranked in the top ten, nationally, in rushing offense per game in 2017, but the Bulls are in serious rebuilding mode, with no clear answer to replace the amazing offensive output of departed quarterback, Quinton Flowers. On paper now, the Yellow Jackets should be favored in this one.
The ACC Media Days preseason poll selected Georgia Tech as the third team in the Coastal Division, claiming 8 first place votes out of the 148 cast. USF was picked second in the East division of the American Athletic Conference, with three first place votes out of 30.