Instant Analysis: USF 55 Temple 73
TAMPA- Fla. – South Florida center Isaiah Manderson had a career high 18 points, and two other Bulls finished in double figures, but the turnover bug infected the Bulls in the second half in a 73-55 loss to Temple Saturday afternoon in the Sun Dome.
Bulls wing Payton Banks and guard David Collins each added 10 points.
Quinton Rose led all scorers with 20 points. Rose also had and six rebounds, while Shizz Alston, Jr. had 19 points and five rebounds and Josh Brown added 12 points and six rebounds for the Owls.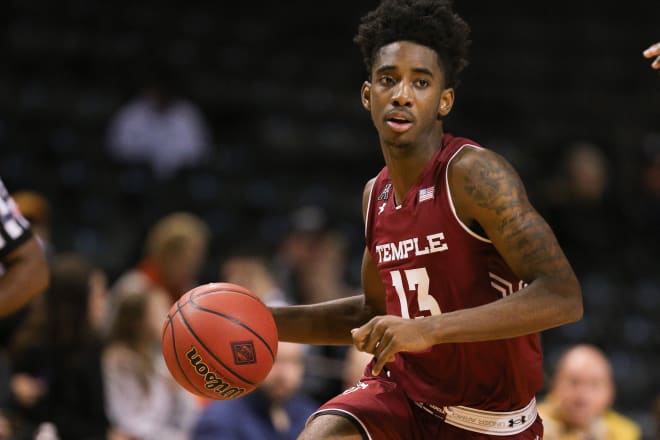 RunningTheBulls.com was at the game and here is our Instant Analysis:
IT WAS OVER WHEN: Following a Stephan Jiggetts three-pointer to bring the Bulls within 51-47 with 8:35 left, Temple went on a 12-0 run to push their lead to 16 points, ending this one.
HE STOLE THE SHOW: Manderson was terrific tonight, following a terrific performance in Storrs, Connecticut. In addition to a new career high in points, he also grabbed eight rebounds and had two assists in 27 minutes.
THE STAT DOESN'T LIE: The Bulls had 12 second half turnovers – compared to just five in the first half – most of the live ball variety. Temple turned those 12 second half turnovers into 14 points. The turnovers put the Bulls defense on its heels.
WHAT A PLAY: Collins jumped to catch an inbounds pass, at half court, on a BLOB play. Rose didn't even jump to contest the pass, instead he waited for Collins to catch the ball and land. Rose then slapped the ball out of Collins' hands and drove to the rim for a dunk giving Temple a 37-30 lead with 18:19 left in the game.
THE BOTTOM LINE: USF played about as well as they could in the first half against a Temple team that came to Tampa red hot. The Bulls controlled pace, they defended Temple's three-point shooting – especially off dribble penetration – USF had more rebounds and they played very good transition defense. Unfortunately they couldn't continue that in the second half. Up next for the Bulls is rival UCF on Valentine's Day in Orlando.