Running the schedule: UConn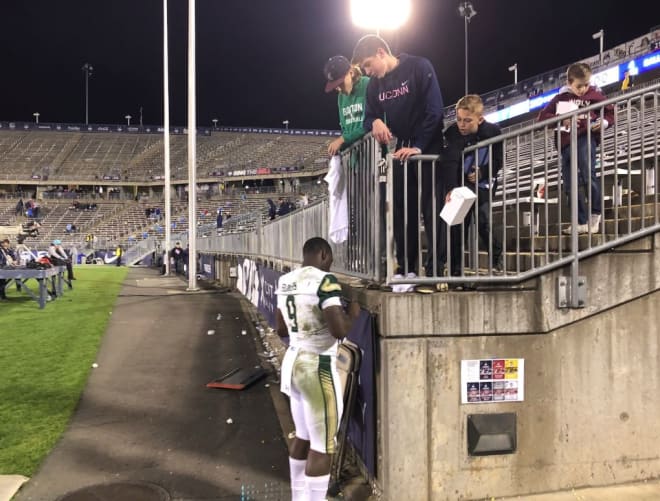 The UConn Huskies are Tampa bound for a meeting with the University of South Florida Bulls on October 20th, 2018. Last year's matchup was postponed due to Hurricane Irma, despite being played at Pratt & Whitney Stadium in East Hartford. That game marked the 15th in this series, all-time, and the sixth straight win by the Bulls. The last two games weren't particularly close, with USF winning them by an average score of 39.5-23.5. However, the previous nine games in the series were decided by eight points or less, with five of them going to the victor with a maximum margin of just four points. While the 10-5 record favoring the Bulls seems lopsided, the series has been far more competitive than the record would indicate. Also noteworthy is the fact that the Huskies posted losing records during the six game USF win streak, winning three games or less, four of those seasons.
The last meeting between the Bulls and dogs was a banner day for former USF quarterback, Quinton Flowers, who accounted for 516 yards of total offense to set one of his many program records. Flowers passed for more than 380 yards and ran for more than 130 more. For perspective, his UConn counterparts, Bryant Shirreffs, David Pindell, and Quayvon Skanes, passed for a combined 176 yards passing and one touchdown.
Flowers is gone, though, and the Huskies have often been a tough opponent for the Bulls. UConn will also be looking for a new starting quarterback to replace Shirreffs. They do return top rusher, Kevin Mensah, who had 95 yards and a touchdown against the Bulls, last year, but lost their number two running back, Nate Hopkins to transfer. Redshirt freshman running back, Zavier Scott, will likely get some looks in the running game with Hopkins' departure.
The news gets worse for the Huskies. From their 103rd ranked scoring offense, they return just four starters. Worse than that, two defensive starters return from the 127th team in total defense, allowing 519 yards per game in 2017.
Senior quarterback, David Pindell, has the most passing experience on the team, with 937 yards passing, four touchdowns, and six interceptions, last season. The only other UConn player with passing experience at the collegiate level is wide receiver, Quayvon Skanes, who completed a pass for six yards in 2017. That six yard pass just happened to come against USF, which was complete to the quarterback, Shirreffs, bringing up at third and four which Shirreffs would convert to a first down on the next play. And, as interesting, yet unimportant things go, that drive would end with UConn's first offensive touchdown of the game, the only one thrown by Shirreffs.
UConn head coach, Randy Edsall, is in just his second season of his second stint in this role with the university. In his prior 12 year run, Edsall had the Huskies defense in the top 50 during six seasons, five of those seasons were ranked in the top 40, with three seasons in the top 25. It should be expected that Edsall will have his defense turned around in time. That time, however, won't be this season, returning just a pair of starters from one of the worst defenses in the country.
For their part, the Bulls need to find a way to replace their 6th ranked offense with the departure of Flowers and the running back tandem of Darius Tice and D'Ernest Johnson, who accounted for 1,739 rushing yards and 18 touchdowns, last year. They'll have guys who can pick up the load on the ground in Trevon Sands, Duran Bell Jr., and Jordan Cronkrite, but they still have a quarterback competition going into the second week of Fall Camp.
This game will be USF's homecoming game, which say something about how the program sees their odds. Kickoff time and television coverage are still to be determined.