USF Elite Camp Insider Part II
Tampa, Fla. – In part two of our recap of Brian Gregory's first Elite Camp at the University of South Florida we take a look at campers who were among the top performers on Saturday.
Several campers we looked forward to seeing in action were at the camp but, due to minor injuries, were held out of the games as a precaution. Among them were five players with USF offers Michael Durr, Drue Drinnon, Emanuel Dowuono, Tre Mann and Omar Payne.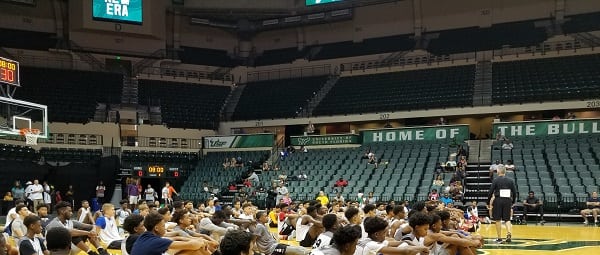 Class of 2018
Serrel Smith 6-foot-2, 170 pounds – Smith is a focused facilitator and was impressive handling the ball and his passing set his teammates up for easy shots. He's pretty good at changing speeds as a ball handler and is a solid defender. He has visits scheduled with Wichita State and Ole Miss. The St. Petersburg HS point guard would be a very good local get for the Bulls at a position of need.
David Pierce 6-foot-2, 200 pounds – It has almost been 18 months since Pierce tore the anterior cruciate ligament in his right knee and this was the first time RTB has seen him play without any type of brace or sleeve on his knee. He is mentally and physically tough, has a solid frame and can get buckets. Pierce is an engaged defender who moves his feet well. Pierce is definitely a Division I prospect but he might be a better fit in the Big South or Sun Belt Conferences.
Class of 2019
Isaiah Palermo 6-foot-5, 180 pounds – Palermo is a high basketball IQ player who is an excellent finisher on the break. A willing defender, Palermo has very good anticipation and seems to constantly be around the ball whether it is grabbing rebounds, getting a steal or a tip. His jump shot has range to the arc.
Luke Anderson 6-foot-7, 212 pounds – A nice combo forward with ball skills Anderson was a productive inside-outside threat Saturday. He can shoot it with range and if a defender tries to take that away Anderson can put it on the floor and finish above the rim. USF offered in late July, since then Iowa State, Kansas State and Dayton have jumped into the mix.
Niven Glover 6-foot-4, 180 pounds – Glover is a big time athlete who looks to make athletic/hustle plays at both ends of the court. An eastbay here a windmill there, Glover is fun to watch, however do not ignore his passing or shooting skills. He can go both ways and makes good decisions on the move. He has shooting range to the NBA three-point line. He has transferred from Oak Ride in Orlando to The Villages where he will play alongside his E1T1 United AAU teammate Tre Mann.
Sam Griffin 6-foot-2, 160 pounds – Griffin looks comfortable either on or off the ball but is better suited at the point guard position where he can set up his teammates. Hopefully at Westminster Academy point guard will be his position because he is a smart playmaker. His jump shot is a work in progress and we'd like to see him make more use of the mid-range. Griffin is solid on defense.
Emmanuel Adedoyin 6-foot-3 – We've seen Adedoyin before but Saturday was the first time he really stood out to us. He has a good frame with wide shoulders, was aggressive when there was a driving opportunity and made plays on the defensive end.
Class of 2020
Josh Taylor 6-foot-6, 220 pounds – Out of Columbia HS in Decatur, Ga., Taylor was impressive running the floor and finishing above the rim. He showed good hands and a nice shooting touch out to the arc. On defense you better know where he is because he will go after your shot.
Marcus Niblack 6-foot-0, 145 pounds – Niblack is a name to remember. He is a crafty playmaker who got to wherever he wanted to on the floor. His court vision and decision making is impressive considering he is just a pup. Niblack has a slow release but deep range on his jump shot if you give him space. He has already picked up offers from Stetson and Florida Gulf Coast.
Garrett Hursey 6-foot-5, 200 pounds – He is a fundamentally sound player who possesses a lot of potential as a shooter and defender. Hursey has a quick release so do not give him space or he will knock down open jumpers beyond the arc. He can also put it on the floor to create space for his shot or get to the rim where he can finish with either hand. We don't know if he's a small forward or a shooting guard, and we don't care. As far as we're concerned his position is "on the court". If he continues to grow a few more inches he could become one of the most versatile players in the state.
In Part III in our Brian Gregory Elite Camp coverage we'll introduce you to several "sleepers".