Running the schedule: Elon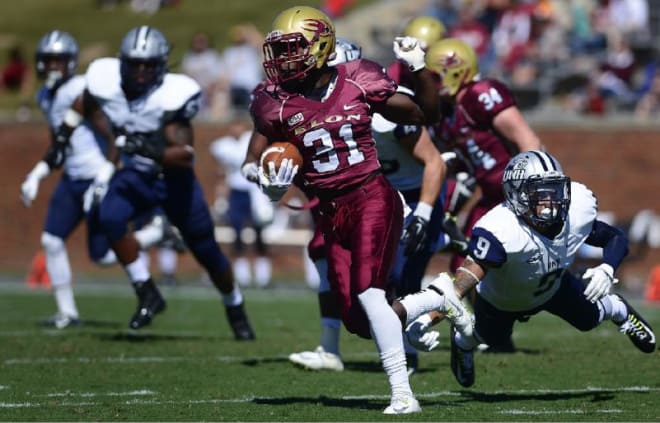 The University of South Florida Bulls will dust off the horns against the Elon Phoenix at Raymond James Stadium on September 1st, in their 2018 home opener. The Bulls are 2-1 against the Phoenix, losing the first matchup in embarrassing fashion, 41-13, back in 1997, when both programs were Division I-AA Independents. That game marked just the sixth game of USF's inaugural football season. The young Bulls got their revenge in a 35-7 win the following year. The last time these two teams shared a football field was in 2007, a surprisingly close 28-13 win in one of USF's best seasons, when they briefly held a #2 ranking in the nation. Neither program remains independent, with Elon joining the Colonial Athletic Association in 2014.
Elon finished the 2017 season as one of the top FCS programs in the country, ranked #20 with a 8-4 overall record. After starting their season with a 47-13 with a pay game against the MAC's Toledo Rockets, the Phoenix went on an 8-0 run before losing to FCS #12, New Hampshire. They were blown out, 31-3 in the Colonial's championship game by James Madison. Their ranking and record got them a shot in the FCS playoff (a real playoff), where they were handed a 28-27 by Furman.
In total, Elon return 18 starters, including sophomore starting quarterback, Davis Cheek, who was the conference Offensive Rookie of the year. Elon finished #21 in the FCS final 2017 Coaches Poll. Athlon Sports ranks them 10th in their 2018 FCS preseason poll.
The Bulls will enter the game a heavy favorite as an FBS team, but as a team searching for a new identity with the graduation of record-breaking quarterback, Quinton Flowers. Flowers carried his team to a 10-2 record in 2017, capped off with a second-straight Birmingham Bowl victory and a consensus #21 national ranking. The Bulls lost to Houston mid-season by four points and in a heartbreaker to UCF to end the season in what many considered the best football game of the year.
After spending the past two seasons ranked in the top 25 and a favorite to win the conference last year, all signs point to rebuilding and unanswered questions. USF returns just 11 starters in total and no leading favorite at quarterback, with choices of inexperienced sophomore, Chris Oladokun, possibly suspended (according to conflicting media reports) junior Brett Kean, or former five star recruit and Alabama / Arizona State quarterback graduate transfer, Blake Barnett. Whomever gets the call to be the next playcaller, the Bulls will need to prepare for this game and not get caught looking ahead to game two and Georgia Tech, because the Phoenix will be ready to fly with their veteran starting roster and a top ten FCS ranking.