Instant Analysis: USF 77 Memphis 79
ORLANDO- Fla. – The Memphis made three of its first four shots and continued to score efficiently in a 79-77 win over South Florida in the first round of the Aaron's American Athletic Conference Championship.
Kyvon Davenport led the Tigers with 27 points. David Nickelberry had 14 points off of the bench and Kareem Brewton, Jr. added 12
Bulls freshman guard David Collins had a career high 30 points on 11-of-13 field goal shooting and Stephan Jiggetts added 16 in his last game as a Bull.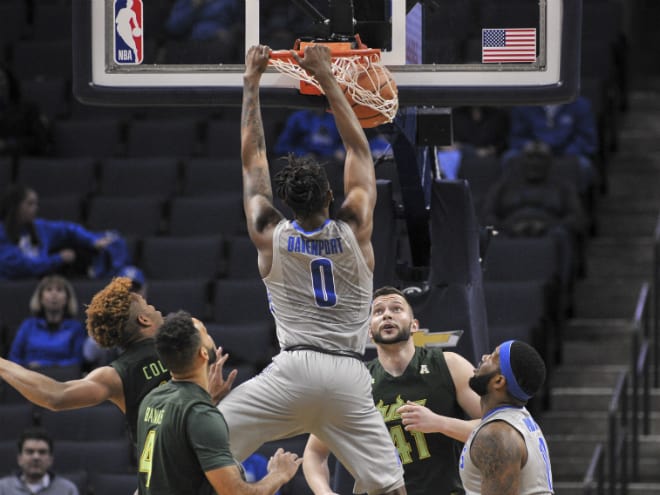 RunningTheBulls.com was at the game and here is our Instant Analysis:
IT WAS OVER WHEN: Justin Brown intentionally missed the second of two free throws with 0.7 seconds remaining and Memphis knocked the ball away as the horn sounded.
HE STOLE THE SHOW: USF had no answer for Davenport today. In addition to his points he had nine rebounds (two OREB), two blocks, two steals and several deflections. Davenport was 10-of-13 from the floor. He scored at all three levels, rebounded at both ends, blocked shots and got his hands-on passes. In our game preview we said his shooting range must be respected" he knocked down 4-of-5 beyond the arc.
THE STAT DOESN'T LIE: Memphis is not a good jump shooting team. For the season they only connected on 30.9 percent of their three-point attempts. Today they made 47 percent (8-of-17).
WHAT A PLAY: It was simple but it was big. Stephan Jiggetts hit a catch-and-release corner three off a pass from Collins to cut the Tigers lead to 79-76 with 19.7 seconds remaining. Jiggetts had only made one of his previous five three-pointers including one air ball miss.
THE BOTTOM LINE: The Bulls 2017-18 season is over but the foundation has been laid to grow the program and get it to respectability. It won't happen in one or two seasons but young guys like David Collins and Justin Brown picked up valuable playing experience this season and older players, Malik Martin and Nikola Scekic showed how they can contribute.
The Bulls staff will now turn its attention towards recruiting. We expect them to add at least two players to their 2018 recruiting class which currently has Xavier Castaneda, Rashun Williams and Michael Durr.