2009 season review: USF vs. Western Kentucky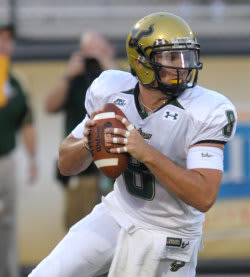 September 12th, 2009 saw Bulls quarterback Matt Grothe become the all-time leader in BIG EAST history in total yardage.


Grothe gained 208 yards through the air and 53 yards on the ground bringing his career total to 10,702 yards as South Florida defeated Western Kentucky 35-13. Despite accomplishing an incredible individual feat, Grothe was quick to deflect praise on his teammates.


"It's an honor," Grothe told the Associated Press. "I couldn't do it without any of my teammates or any of the coaches giving me a chance to be here. Hopefully the record will be way up there at the end of the year and we can be Big East champions."
Grothe tossed two touchdown passes to
Theo Wilson
and
Ben Busbee
of 14 and 17 yards, respectively.
Moise Plancher
led all rushers with 115 yards on eight carries crossing the goal line twice to spearhead the Bulls ground attack. Freshman quarterback
B.J. Daniels
got in on the act rushing for a seven yard score.
Wide receiver Carlton Mitchell proved again to be a valuable target in the passing game. Mitchell snared a team-high four passes for 130 yards - also a team-high.


A.J. Love
contributed an additional 32 yards receiving in the Bulls aerial assault.
South Florida's pass defense was immense limiting the Hilltoppers to a mere 84 yards through the air. Western Kentucky quarterback Brandon Smith did complete 13 passes on the day, but only managed 3.2 yards per completion and threw an interception.
The Hilltoppers found a lot more success rushing the ball.


Brandon Smith carried the ball 21 times, the most of any player in the game, for 105 yards. Marell Booker was responsible for the only Western Kentucky touchdown as he carried for a 15 yard touchdown in the third quarter to narrow the gap to 21-13.
South Florida kicked it into fifth gear roaring back to rattle off 14 unanswered points to put the game out of reach and where it would finish at 35-13.
The score could have been much worse if it weren't for penalties. South Florida committed nine penalties for 85 yards at untimely moments throughout the contest.
By the same token, the Hilltoppers had their own problems with discipline drawing 13 flags for 124 yards worth of penalties.


Western Kentucky would go on to struggle throughout the remainder of their schedule as the Hilltoppers failed to win a single game in 2009.


Up next on the Bulls schedule was a return to the friendly confines of Raymond James Stadium as South Florida was set to welcome Charleston Southern to Tampa. USF would look to use the game as one, final tune-up before travelling to Tallahassee to take on the Seminoles of Florida State the following week.
Share your favorite memory from this game on
The Bullpen
.